As the COVID-19 pandemic has continued to impact the world, the education sector has been undoubtedly upended and forced to adapt unlike ever before. Now that educational institutes are slowly returning to in-person learning, new obstacles are appearing, particularly in higher education and college and university settings, where the education mixes with social and home life. But, with simple planning and modifications, students, faculty, and staff can rest assured that they can continue their educational journey safely and healthily.
Planning is one of the most important things that your educational facility can do in order to develop a safe and effective response to the public health crisis. Despite the number of cases in a community, whether high or low, higher education settings must have thorough plans to follow to both remain open or to shift to remote learning should the situation arise, often at short notice. Make sure you work with state and local officials, as well as all relevant departments of the school to make sure that everyone knows what to do and when. Officials should monitor the daily developments related to COVID-19, and create criteria for each situation. Having clear-cut responses and plans will be very beneficial to all involved, as will strong communication with all members of the educational community who would be impacted by any changes in operations.
Protocols must be followed that promote healthy and safe daily operations, no matter where the students are learning from. It is important to encourage proper hygiene habits, such as washing one's hands with soap and water, sneezing and coughing into one's arm, and wearing masks to slow the spread. Find ways to reinforce these measures, whether through signs or a community notification system. Do your best to offer supplies that help promote these procedures, such as hand sanitizer dispensers in high-traffic areas or near high-contact surfaces. Everyone must take responsibility in following these rules, but by offering the supplies, it helps promote it even further.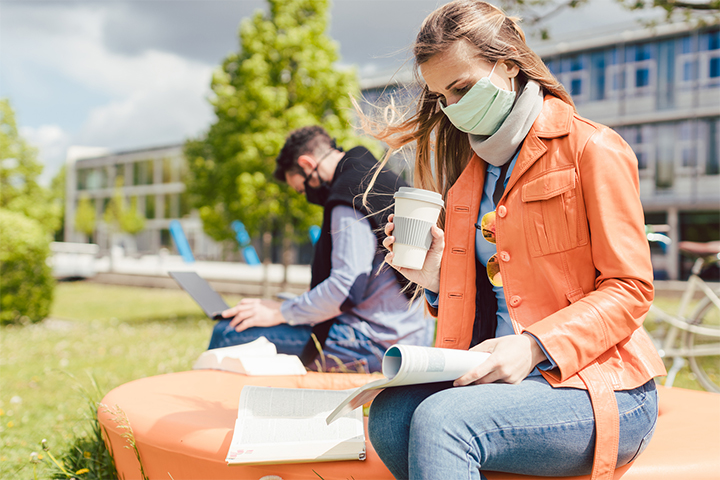 Increased cleaning schedules is key to maintaining a healthy environment. Work with maintenance staff to create a thorough schedule to clean shared spaces, such as classrooms and restrooms, as well as high-touch surfaces, such as doorknobs and handrails, and any transit systems run by the school. Discourage the use of shared objects, especially those difficult to regularly clean. This applies to cafeterias and dining halls as well. Create plans to limit the flow of students during peak periods, and find ways to limit high or repeated contact, such as by offering disposable silverware and consider prepackaged meal options. It is important to work with facility operators to create adequate ventilation. Often, schools are in older buildings that do not have idea ventilation, so work with the facilities to determine steps to help air flow and air purification. But, when doing this, it is important to keep safety and security measures in mind. It might not be the best idea to leave doors to the outside open and unattended!
In any educational setting, socialization is a major part of the experience, but large gatherings can help the virus spread, so finding ways to limit gatherings, whether school-related or social-based is key. Offering staggered class schedules and hybrid education, promoting the use of virtual classrooms, such as Zoom, are good ideas to limit the number of students and staff together at one point. It is important to look into suspending or limiting travel, including study abroad programs. Though these are popular, they can create a chain of infections that is uneasily traceable. College and university housing can be notorious for overcrowding, so determine ways to limit packed dorm rooms, whether finding alternate options for housing or rearranging existing rooms to remove instances where too many people are kept in small areas.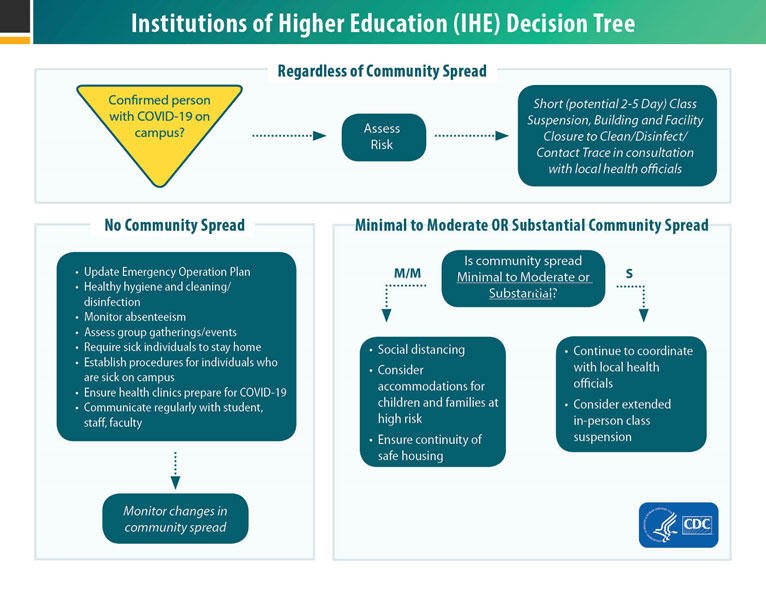 An unfortunately likely event educational institutions will encounter is a member of the community becoming infected with COVID-19. Don't panic, because you prepared for this! Assessing the risk to the community is most important, and by having many plans in place, this will allow for a swift and targeted response. Throughout it all, stay in touch with local public health officials. Determine the case's potential contacts, and determine how to proceed. Know what to do if classes need to be suspended briefly, for a prolonged period of time, or if they can continue with simple modifications. It is also important to have defined quarantine procedures. If students live on-campus, have housing prepared and meal options available to those unable to leave quarantine, as well as plans to continue education in these situations. Have contact tracing abilities to determine who is at risk, and respond accordingly. Having the ability to test students and staff is a great benefit, too! Have protocols for testing, whether it involves testing students on a regular basis, if they are  exhibiting symptoms or have come in contact with someone infected, or even on a random basis. Remember, a significant number of cases are asymptomatic, so but those people could potentially spread it to someone who may have more severe complications.
Adaptation is key, and in an educational setting, teach everyone about the need to be adaptable in this unprecedented event. By having plans for countless potential scenarios, it will help educational institutes continue to operate with confidence without causing extra interruptions to what already has proven to be a time filled with unexpected interruptions. Make sure to keep checking the CDC's dedicated page on College, University and Higher Education response, which features a wide variety of guidance to help these institutes through this situation until education—and the world—begins to look more normal again.
If you have concerns about your workforce and coronavirus, please contact us today to learn about steps you can take to protect yourself, your family, and your employees. We offer the following COVID-19 safety service options:
COVID-19 Consulting Bundle: Written directive/policy on requirements which can be either a corporate policy or a site-specific policy.
COVID-19 Training (Infection Control Webinar): We offer Open Enrollment Classes and Private Company Sponsored Classes made available at your convenience.
COVID-19 Testing: We now offer COVID-19 Testing Services for Colleges, Universities, Private Companies, And Public Agencies