OccuMed's Drug & Alcohol Testing, from a practical sense, allows employers to meet contractual and insurance requirements. Your ability to obtain work or a contract can be dependent on having a labor force that doesn't have recent positive tests. Or, your insurance rates may be lowered so long as you provide your carrier with proof that your staff has no history of use. 
The core reasons to conduct Drug and Alcohol Testing generally are:
No matter what the reason or cause for testing, There is always a human element in it. For each scenario, you're doing more than you think by conducting Drug and Alcohol Testing.
Drug Test Direct Scheduling
For individuals or groups of less than ten, our state-of-the-art clinic ensures you and others have the privacy needed to take your test as well as receive results confidentially.
Our testing services are provided in one of three ways:
Department of Transportation (DOT) Certified Drug Test: A test collected in our clinic with results processed at a certified toxicology lab that follows DOT standards for procedures AND reporting.
Standard Drug Test: A test collected in our clinic with results processed at a certified toxicology lab with results provided later to a designated representative.
Instantaneous/Point-of-Care Drug Test: A personal test conducted on-site at our clinic where results are returned within 25 minutes. 
In less than 15 minutes you can be on your way and if needed, have your results provided directly to your employer.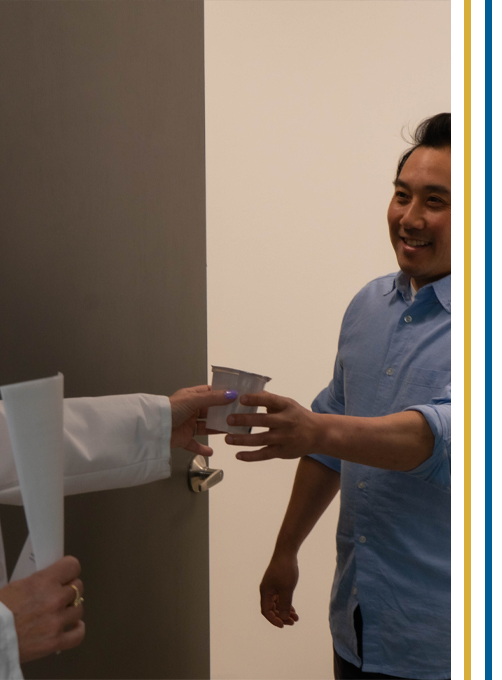 For large testing pools our staff and mobile clinic is capable of coming to your office, building, or wherever you do business to conduct testing. OccuMed provides enterprise level testing at small- to medium-sized value while avoiding the downtime and cost normally associated with testing pools of this size.
Sign Up For Our Newsletter
Stay connected to OccuMed and learn when new there are updates to our services, and to keep up with latest trends in occupational health and wellness.